Clamping couplings
Connection pipes without welding and threading
Clamping coupling with male threads

Size
½″
¾″
1″
1 ¼″
1 ½″
2″
Outer diameter of pipes, mm
19.7–21.8
24.6–27.3
31.4–34.2
40.0–42.9
47.9–51.5
59.7–63.6
Weight, kg

≈

0.19

≈

0.25

≈

0.34

≈

0.45

≈

0.52

≈

0.69
Packaging, pcs
50
50
25
25
10
10
Clamping coupling with female threads

Size
½″
¾″
1″
1 ¼″
1 ½″
2″
Outer diameter of pipes, mm
19.7–21.8
24.6–27.3
31.4–34.2
40.0–42.9
47.9–51.5
59.7–63.6
Weight, kg

≈

0.21

≈

0.28

≈

0.36

≈

0.47

≈

0.54

≈

0.75
Packaging, pcs
50
50
25
25
10
10

The couplings are supplied assembled and packed in individual plastic bags with the size of the product.
For the convenience of transportation products are packaged in a common transport packaging according to the table.
The use of clamping couplings
Cast iron clamping couplings are used as the connecting element of water and heating supply.
The design of the clamping coupling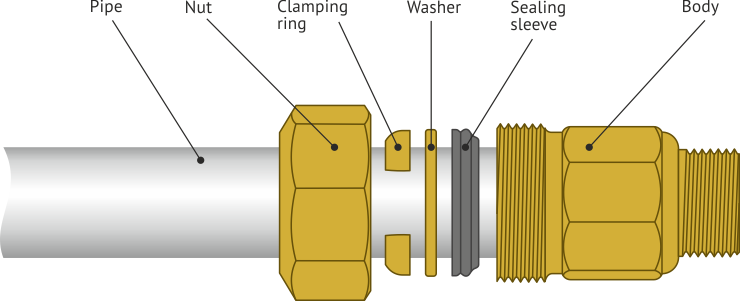 Body and nut
Due to the faceted body and the nut, screwing of the coupling has become more safer: the likelihood of slippage of the tool is decreased. Are made of malleable iron.

Clamping ring
It securely holds the pipe. Coupling clamp design fits different diameter within nominal pipe. It made of high strength spring steel.

Sealing sleeve
Securely seals the connection. It made of EPDM-rubber.

Washer
It protects the sealing sleeve from the mechanical action of the clamp ring and limit the indentation depth of the sealing sleeve into the body of the coupling. It is made of steel.
| | |
| --- | --- |
| Clamping coupling with male threads on the pipe (assembly sequence) | Clamping coupling with female threads on the pipe (assembly sequence) |
Technical data

Operating pressure
10 bar
Operating temperature
for heating and household water supply 80

°

С
for drinking water supply 25

°

C
Operating environment
water
Type of pipes
steel and PE-pipes (S5/SDR11)

Can deviate from the axis of the connected pipes up to 3°.
Tests that have been done
Corrosion resistance
Zinc galvanizing with yellow chromating coated on the clamping coupling, it ensures corrosion resistance even when the mechanical damages.
180 grams per liter and 2 months of test
On this photo coupling clamp after two months stay in the water-salt solution 180 grams of salt per 1 liter of water.